Flap Barrier Turnstile Flap Optical Barrier Turnstile Gate
Add: Room 501, No.6, West 4th Alley, XingWei Village, FuYong Town, BaoAn District, Shenzhen, China
E-mail: luke@jaydagate.com
Wechat: Lukerong2013
Whatsapp: +86-13548106515
Mobile: +86-13548106515
Skype: jaydagates@outlook.com
Flap barrier turnstile flap optical barrier turnstile gate is an ideal crowd control option with a distinctive design and minimal power consumption
Flap barrier turnstile JDYZ-27 offers a quick and easy route for authorized individuals to enter guarded areas, and it works well for applications demanding ultra-high-speed access and medium levels of protection. The safety of pedestrians is ensured by the clever infrared sensors that are included in it. It offers excellent detection accuracy to successfully prevent clipping and collision. A visible or auditory alert is activated if someone tries to enter without permission, and the pedestrian turnstile gate will also refuse to open, effectively denying access.
Turnstile flap barrier JDYZ-27 allows for single- or bi-directional access and can be easily integrated with a variety of dry contact output access control devices. If no pedestrians pass by for a predetermined time, the access right will be canceled. The passing period can be altered to meet various needs. In the event of a power outage, the passage will automatically open up allowing free passage
Flap Barrier Turnstile Features
1. Easily integrates access control and fire safety systems through dry contact
2. Forcibly entering or tailgating attempts will be prompted by audible & visible alerts
3. High performance and robustness
4. Unique design meets the latest architectural trends
5. Physical security improved with fast double retractable wings for an immediate lane closure
6. Quick and smooth motorized retractable wings for bi-directional operation
7. Fast user throughput
8. In case of emergency, the flap turnstile arm will open automatically to allow free access
9. Obstacles automatically open to free the passage
10. Stable and efficient operation with lower noise
Flap Barrier Turnstile Applications
Company premises
Power plants
Industrial plants
Government facilities
Stadiums
Airport and port areas
Public transportation terminals
Flap Barrier Turnstile Parameters
| | |
| --- | --- |
|  Housing Material |  #304 stainless sheet |
|  Dimension |  1400 x 300 x 980mm |
|  Power Supply |  AC220V / AC110V, 50/ 60 Hz |
|  Channel Width |  550mm |
|  Drive Motor |  DC 24V brush motor |
|  Pass Speed |  35~40 persons per minute |
|  Input signal optional |  Dry contact signal or +12V level signal or DC12V pulse signal |
|  Rotating Direction |  Bi-directional |
|  Communication interface |  RS485 |
|  Arm drop when power failure |  Yes |
|  Open Time |  0.2 second |
|  Life Cycle |  3 million times |
|  Working Temperature |  -30°C~+70°C |
|  Working Environments |  Indoor, outdoor (with shelter) |
The Design
The System Diagram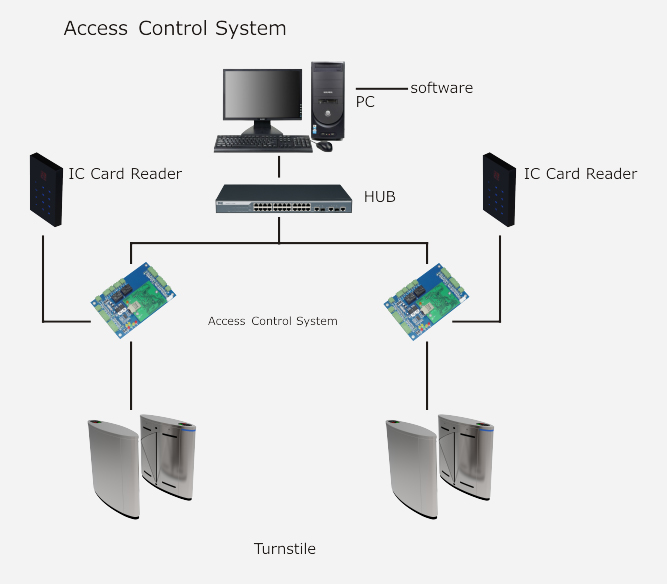 Project Cases

FAQ
What are flap barrier turnstiles?
Flap barrier turnstiles are inexpensive waist-high optical turnstiles that are comprised of two cabinets connected by invisibly invisible infrared beams. They are easy to use. Infrared rays are used by these cabinets to determine if people have successfully navigated the optical turnstile lane. A visual or auditory signal will be sent in response to any unauthorized entry or tailgating attempts, and the barrier will also refuse to open as a result, essentially barring entrance. Turnstile flap barriers are typically used in commercial and industrial settings like exhibitions, supermarkets, and public transportation. They can be combined with a variety of access control systems and are remotely controllable.