Access Control Flap Turnstile JDYZ-28
Add: Room 501, No.6, West 4th Alley, XingWei Village, FuYong Town, BaoAn District, Shenzhen, China
E-mail: luke@jaydagate.com
Wechat: Lukerong2013
Whatsapp: +86-13548106515
Mobile: +86-13548106515
Skype: jaydagates@outlook.com
The access control flap turnstile is an ideal crowd control solution offering quick access clearance with little supervision
Access control flap turnstile JDYZ-28 is a fashion turnstile system that offers quick access clearance with less supervised surveillance. Two acrylic wings act as blockades. All lanes can be set up for entrance, exit, or two-way traffic. The optical turnstile is made of premium #304 stainless steel sheet and can be integrated into any type of architecturally designed building because of its aesthetically pleasing design. The exit turnstile is frequently used for office buildings, campuses, facility halls, and other commercial complexes.
Flap turnstile access control system JDYZ-28 employs two acrylic wings as a barrier and retracts into the stainless-steel chassis when it receives an opening signal from any linked external device. Each lane has sensors installed to guarantee sufficient access clearance and the pedestrian's safety. An emergency control system is included in the flap optical turnstile's mechanical design, allowing the two wings to open automatically in the event of a power outage and automatically close when the power is restored.
JDYZ-28's control system guarantees optimum performance, smooth operation, contact-free admission control, opening and closing times of less than one second, and a long life span. For the most effective pedestrian access control solution, the flap turnstile barrier gate can be connected with an RFID card reader or a biometric fingerprint scanner. The controlled motorized drive system drive mechanism with a compact control unit allows for bidirectional movement. Maximum throughput is provided with smooth operations and high performance. The optical flap turnstile is adaptable to various building situations and able to offer a solution for the management of all types of entries and exits thanks to its numerous possible configurations.
As a leading producer of biometric turnstiles, Jayda consistently produces state-of-the-art turnstile security gates with dependable quality and competitive prices. Meanwhile, we also customize the turnstile solutions for particular projects for global customers. Please contact us at luke@jaydagate.com for assistance.
Access Control Flap Turnstile Features
1. Rapid clearance with little supervision
2. Simple integration with various access control devices
3. Fail-safe feature with UPS to fulfill fire-safety regulations.
4. Each lane is monitored by safety infrared beams to guarantee proper entry clearance.
5. Fault detection and warning functions, as well as ease of use and maintenance
6. Auto opens when power is off and auto closes when power is on, in accordance with fire safety regulations
7. Provide a smooth and controlled operation that ensures a continual flow of people while preserving security.
8. Cancel the entry and close the barrier automatically if there is no pass-through within the pre-set period.
9. Can be configured to enable passage in both directions or limit passage to one direction based on specific requirements
10. If the barrier encounters resistance during the reset procedure, the motors will stop working automatically within the prescribed period and reset again after the default delay.
Access Control Flap Turnstile Applications
Commercial building
Office premises
Facilities hall
Factory
Immigration checkpoint
University
Access Control Flap Turnstile Parameters
| | |
| --- | --- |
|  Housing Material |  #304 stainless sheet |
|  Dimension |  1400 x 300 x 980mm |
|  Power Supply |  AC220V / AC110V, 50/ 60 Hz |
|  Channel Width |  550mm |
|  Drive Motor |  DC 24V brush motor |
|  Pass Speed |  35~40 persons per minute |
|  Input signal optional |  Dry contact signal or +12V level signal or DC12V pulse signal |
|  Rotating Direction |  Bi-directional |
|  Communication interface |  RS485 |
|  Arm drop when power failure |  Yes |
|  Open Time |  0.2 second |
|  Life Cycle |  3 million times |
|  Working Temperature |  -30°C~+70°C |
|  Working Environments |  Indoor, outdoor (with shelter) |
The Design
The System Diagram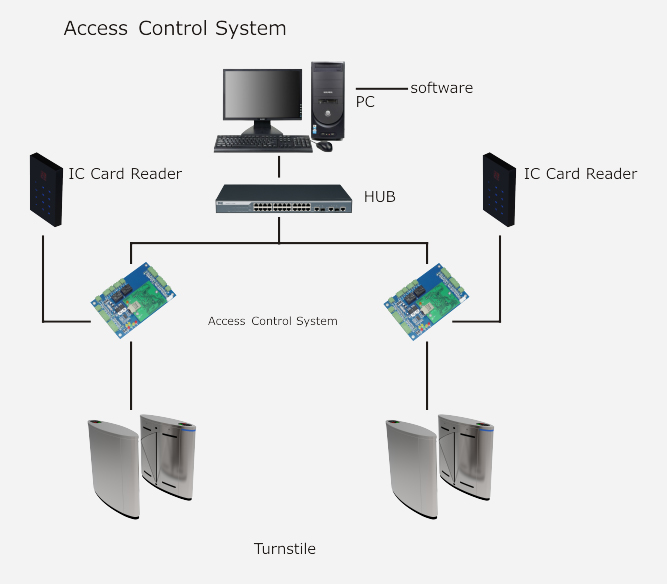 Project Cases