Optical Flap Turnstile JDYZ-27
Add: Room 501, No.6, West 4th Alley, XingWei Village, FuYong Town, BaoAn District, Shenzhen, China
E-mail: luke@jaydagate.com
Wechat: Lukerong2013
Whatsapp: +86-13548106515
Mobile: +86-13548106515
Skype: jaydagates@outlook.com
Unique design optical flap turnstile, automatic flap gate turnstile is ideal crowd control solution with low power consumption

Optical flap turnstile JDYZ-27 provides a fast and smooth way to facilitate the authorized people entry secured areas and suites well the applications requiring ultra high speed access and medium levels of security. Flap barrier optical turnstile JDYZ-27 is supplied with intelligent infrared sensors providing high detection accuracy to effectively prevent clipping and collision, ensuring the safety of pedestrians. If a person attempts to enter without authorization, a visual or audible alert is triggered, meanwhile, optical flap turnstile gate JDYZ-27 will refuse to open along with the alerts to effectively deny access.
Optical flap turnstilee JDYZ-27 supports single directional or bi-directional access and flexible integrate various access contro device with dry contact output. In addition, flap optical turnstile JDYZ-27 will cancle the access right If pedestrians do not pass through within pre-defined time, and the passing time Is adjustable for different requirements. In case of power failure, the passage will be released automatically for a free access.
Keywords:  optical flap turnstile supplier, automatic flap gate turnstile, flap gate turnstile cost, access control flap turnstile,  flap gate optical turnstile supplier
Optical Flap Turnstile Features
1. Easily integrates to access control and fire safety systems through dry contact
2. Forcibly enter or tailgating attempts will be prompted by audible & visible alerts
3. High performance and robustness
4. Unique design meets the latest architectural trends
5. Physical security improved with fast double retractable wings for immediate lane closure
6. Quick and smooth motorized retractable wings for bi-directional operation
7. Fast user throughput
8. In case of emergency, the flap turnstile arm will open automatically to allow free access
9. Obstacles automatically open to free the passage
10. Stable and efficient operation with lower noise
Optical Flap Turnstile Applications
Company premises
Power plants
Industrial plants
Government facilities
Stadiums
Airport and port areas
Public transportation terminals
Optical Flap Turnstile Parameters
| | |
| --- | --- |
|  Housing Material |  1.5mm~2.0mm #304 stainless sheet |
|  Dimension |  1400 x 300 x 980mm |
|  Power Supply |  AC220V / AC110V, 50/ 60 Hz |
|  Channel Width |  550mm |
|  Drive Motor |  DC 24V brush motor |
|  Pass Speed |  35~40 persons per minute |
|  Input signal optional |  Dry contact signal or +12V level signal or DC12V pulse signal |
|  Rotating Direction |  Bi-directional |
|  Communication interface |  RS485 |
|  Arm drop when power failure |  Yes |
|  Open Time |  0.2 second |
|  Life Cycle |  3 million times |
|  Working Temperature |  -30°C~+70°C |
|  Working Environments |  Indoor, outdoor (with shelter) |
Optical Flap Turnstile Design
Optical Flap Turnstile System Diagram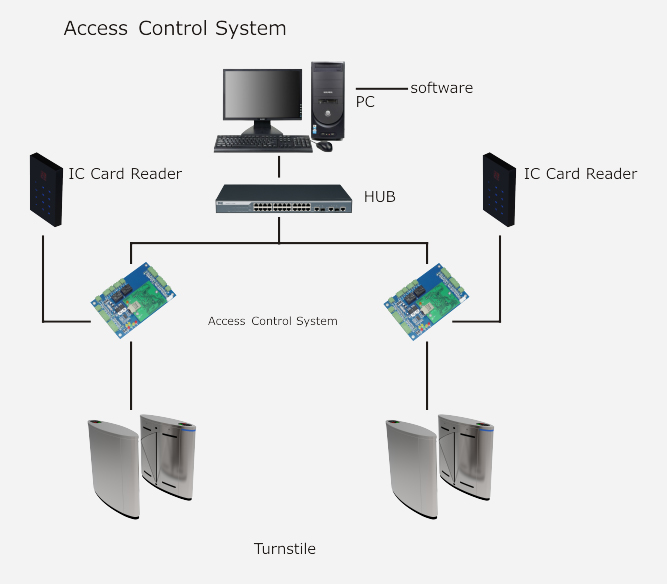 Project Cases for Reference
What is an optical flap turnstile?
Optical flap turnstile is a simple and cost-effective waist high optical turnstile which is made up of two cabinets connected by invisible infrared beams. These cabinets use the infrared beams to detect whether pedestrians have passed through the optical turnstile lane. The illegal intrusions or tailgating attempts will trigger a visual or audible alert . If the turnstile is supplied with a physical barrier, the barrier will refuse to open along with the alerts to effectively deny access. Flap barrier optical turnstile is able to be integrated with various access control systems and can be controlled remotely. Flap barrier turnstile gate is mostly used at commericial and industrial places such as exhibitions, supermarkets, public transports.
How does optical flap turnstile works?
Optical flap turnstile comes with visible wings which operate in two-directional movements, when closed, the wedge-shaped wings meet near the top forming a barrier. When opened, the wings fully retract into the cabinet, creating free passage. Flap turnstile gate is supplied with infrared sensor to ensure that only one person enters for each authorized credential at one time. The pedestrians shows their valid credential before entry, the flap barrier gate will open for free access, and automatically close after access completed or out of passing time if pedestrians do not pass within pre-set time. Flap optical turnstile gate provides a function that protects a person from any injury caused by the closing of the flap barrier wings during the person's pass-through duration.
Optical flap turnstile applications:
Optical flap turnstile adopts streamlined design with a more modern aesthetic to meet the latest architectural trends. The stainless steel construction and beautiful design allow them to be used in lavish corporate lobbies, office buildings, data centers, government facilities, public transportation systems, stadiums and more. They provide very quick throughput, so they are often also implemented in subways and other public transportation terminals.
Optical flap turnstile types:
According to different drive motor, optical flap turnstile can be divided into
Brush motor optical flap turnstile: such flap turnstile gate uses DC24V brush motor, it is an ideal crowd control managment requiring simple and cost-effective operation.
Brushless motor optical flap turnstile: such flap turnstile gate uses DC24V brushless motor, featuring fast opening speed, barrier-free, silent, safe to use,easy to use and maintain. Because of modular design, simpler structure and more convenient maintenance. The brushless motor is powerful, no wear, no noise, and its life is much longer than other motors.
Optical turnstile Variation:
Optical flap turnstile is a classic type of waist high optical turnstiles which can come with a physical barrier or they can be barrier-free. Barrier-free optical turnstile relies solely on infrared beams to detect and deter passage, while barrier optical turnstiles utilize the internal infrared technology coupled with a physical barrier to provide added security against unwanted entry. optical turnstile cabinets can be installed as close to or as far apart from each other as needed. This provides flexibility and allows lanes to be handicap accessible.
What are the advantages of optical flap turnstile ?
1) Supplied with fault self-checking and alarm prompting function, which is convenient to maintain and use;
2) The running status is programmable directly from the control board
3) Mechanical structure & induction anti-pinch functions
4) Sound and light alarm function
5) Anti-shock function, the swings are automatically locked if no open signal is received.
6) Telescopic boom synchronization function;
7) Automatic reset function. when open, if the pedestrians do not passage within the specified time, the system will automatically cancel the user's permission to access this time.
8) Flap turnstile automatically open after power failure, and automatically close when powered on;
9) Flexibly integrate a variety of access control systems
10) One-way or bidirectional access mode