Stylish Design Speedgate Turnstile Biometric Fastlane Turnstile Speed Gate
Add: Room 501, No.6, West 4th Alley, XingWei Village, FuYong Town, BaoAn District, Shenzhen, China
E-mail: luke@jaydagate.com
Wechat: Lukerong2013
Whatsapp: +86-13548106515
Mobile: +86-13548106515
Skype: jaydagates@outlook.com
2022 latest design speedgate turnstile, speedgate secure waist height turnstile is designed minimal footprint for maximum throughput
Speedgate turnstile JDSG-27 is suitable for large variety of sites such as offices, banks, administrative facilities, airport. It uses optical sensors to detect the passage of persons attempting to follow through, movement in the wrong direction, or the lack of authorization and trigger an alarm.The stainless steel cabinets are available in standard (600mm) and wide (900mm) lane widths, to accommodate different user requirements. In addition, the stylish and flexible design able to virtually blend infinite aesthetics within architectural interior needs, without compromising security features.
The compact housing design of speedgate optical turnstile JDSG-27 allows it to be installed in narrow entry areas. Because of the smooth integration of proximity, magnetic card readers, biometric scanners and other user authentication systems, speedgate secure waist height turnstile JDSG-27 provides an ideal contactless solution for access control and comfortable passage in an intense flow of people, avoiding queues at the entrance and exit.
1.Automatic reset function
2.Reinforced detection to enhance user protection and manage passage of luggage
3.In case of emergency the obstacles can be unlocked with a simple push to automatically open
4.Fast opening/closing of the physical barrier
5.Wider variants suitable for wheelchairs and bicycles
6.Safe and secure with light-touch, auto-reverse barrier impact detection
7.Anti-pass back function
8.Precise, well-lit pictograms for intuitive user experience and ergonomic
9.Contactless operation
10.Discreet and ergonomically integrated card reader
Speedgate Turnstile Applications
Wheelchair/disabled access
Administrative sites
Amusement parks
Commercial buildings
Stadiums
Fitness center
Speedgate Turnstile Parameters
| | |
| --- | --- |
|  Housing Material |  #304 stainless sheet |
|  Dimension |  1400 x 160 x 980mm |
|  Power Supply |  AC220V / AC110V, 50/ 60 Hz |
|  Channel Width |  600~900mm |
|  Drive Motor |  DC 24V brushless motor or servo motor |
|  Pass Speed |  35 ~45 persons per minute |
|  Input Interface |  Dry contact signal or +12V level signal or DC12V pulse signal |
|  Rotating Direction |  Bi-directional |
|  Communication interface |  RS485 |
|  Gate open when power failure |  Yes |
|  Open Time |  0.2 second |
|  Life Cycle |  5 million times |
|  Working Temperature |  -30°C~+70°C |
|  Working Environments |  Indoor, outdoor (with shelter) |
Speedgate Turnstile Design
Speedgate Turnstile System Diagram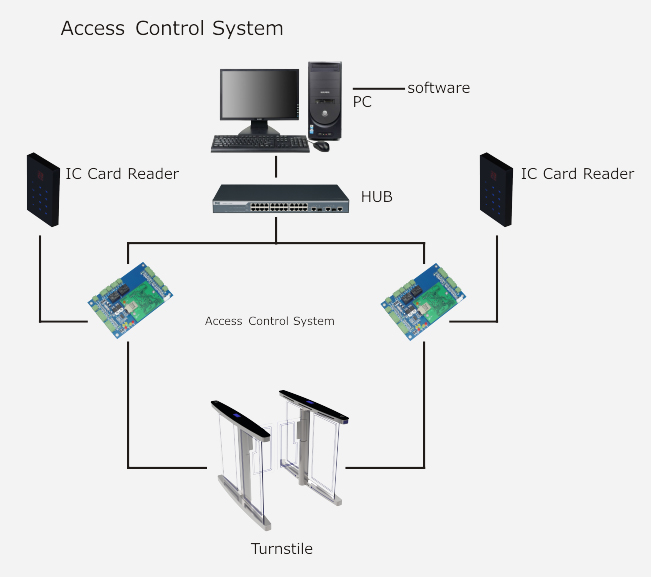 Project Cases for Speedgate Turnstile

FAQ
What are the advantages of speedgate turnstile?
1. Designed with a stainless-steel housing and transparent glass slide walls that create an aesthetically pleasing access checkpoint
2. Provide a strong visual obstacle against intrusion
3. Supplied with tailgating attempt detection to avoid illegal intrusion
4. Slim, elegant design and minimal footprint for blending into surrounding aesthetics
5. Supplied with wrong way detection prevents the gate opening when a user approaches from the secure side and intrusion detection prevent doors opening on to users in the safety zone
6. Provides an effective crowd control management with rapid throughput and comfortable passage in an intense flow of people, avoiding queues at the entrance and exit
7. Supplied with multiple physical barrier height and lane widths to provide easy access to the disabled, wheelchairs, and people with large objects or deliveries, meeting both accessibility and security requirements.