Speed Turnstile Gate JDSG-27
Add: Room 501, No.6, West 4th Alley, XingWei Village, FuYong Town, BaoAn District, Shenzhen, China
E-mail: luke@jaydagate.com
Wechat: Lukerong2013
Whatsapp: +86-13548106515
Mobile: +86-13548106515
Skype: jaydagates@outlook.com
2022 latest design speed turnstile gate, speed gate security turnstile is designed minimal footprint for maximum throughput
Speed turnstile gate JDSG-27 is sturdy, durable and high-intensity impact resistent, designed with a slim and stylish look for narrow entry areas where autonomous entry and aesthetics are important. Speed gate turnstile JDSG-27 runs in a smooth, fast and reliable way, providing an ideal contactless solution for access control and comfortable passage in an intense flow of people, avoiding queues at the entrance and exit. The standard (600mm) and wide (900mm) lane widths are available to meet different application requirements, and the height of tempered glass panels 1.0m, 1.2m or 1.8m are available to provide increasing levels of security as required.
Speed turnstile gate JDSG-27 can be configured to allow access in a single direction or bi-directionally depending on actual requirements and simply integrates various access control systems to support muliple verification methods. In addition, speed gate security turnstile JDSG-27 is designed in compliance with the most stringent safety and security standards, and widely used in corporate lobbies, high rise building entrances, luxury apartment complexes, universities.
Keywords: speed gate security turnstiles, speed turnstile gate manufacturer, speed gate turnstile cost, entry control optical turnstile,  turnstile speed gate for sales
Speed Turnstile Gate Featurers
1. Accurate tailgating detection
2. Precision controlled movement of obstacles and detection of all obstructions
3. Reinforced detection to enhance user protection and manage passage of luggage
4. Obstacles automatically open to free the passage in case of power failure
5. Minimal footprint for maximum throughput
6. Unique detection algorithm prevents fraudulent entry with greater user safety
7. Smooth integration of proximity, magnetic card readers, biometric scanners and other user authentication systems
8. Transparent and elegant design
9. High-density matrix of infrared beams follows users' progression through the gate
10.The swing panels are available in heights of 1.2m, 1.4m or 1.8m to provide increasing levels of security as required.
Speed Turnstile Gate Applications 
Offices
Banks
Public institutions
Data centres
Sensitive sites
Schools and universities
Speed Turnstile Gate Parameters
| | |
| --- | --- |
|  Housing Material |  1.5mm~2.0mm #304 stainless sheet |
|  Dimension |  1400 x 160 x 980mm |
|  Power Supply |  AC220V / AC110V, 50/ 60 Hz |
|  Channel Width |  600~900mm |
|  Drive Motor |  DC 24V brushless motor or servo motor |
|  Pass Speed |  35 ~45 persons per minute |
|  Input Interface |  Dry contact signal or +12V level signal or DC12V pulse signal |
|  Rotating Direction |  Bi-directional |
|  Communication interface |  RS485 |
|  Gate open when power failure |  Yes |
|  Open Time |  0.2 second |
|  Life Cycle |  5 million times |
|  Working Temperature |  -30°C~+70°C |
|  Working Environments |  Indoor, outdoor (with shelter) |
Speed Turnstile Gate Design
Speed Turnstile Gate System Diagram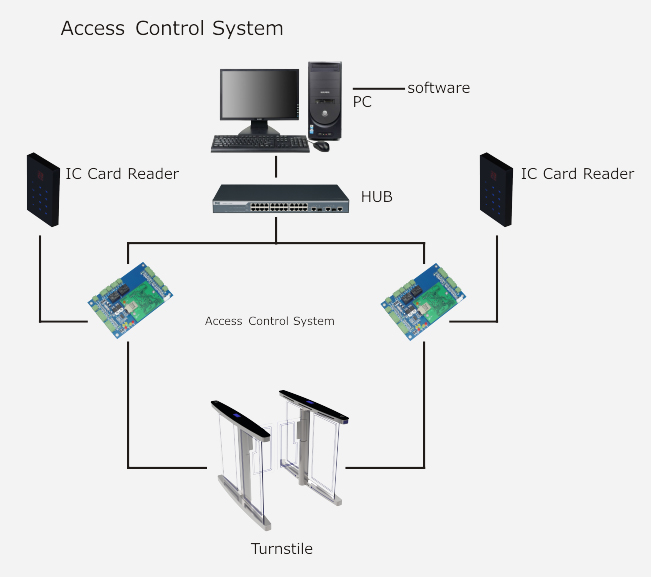 Project Cases for Reference
What is a speed turnstile gate?
Speed turnstile gate is upgraded optical waist height turnstile gate that provides convenient, fast and secure access, featuring fast traffic speed, running speed, accurate positioning function and stable operation. Speed gate turnstiles employees stable DC24V brushless motor or servo motor to gurantee rapid throughput and long-term stable operation. Speed turnstiles are supplied with slim and elegant design which allow them to be used for compacted places, and blend into surrounding aesthetics as well. Combining the physical barrier and advanced sensor technology to provide entry detection and prevention without the need of a guard, speedgate security turnstiles are gaining in popularity for the applications where remaining safe and secure is crucial, and widely used for offices, banks, public institutions, data centres.
How does a speed turnstile gate works?
Speed turnstile gate is an effective entrance control management acting as physical barrier turnstile between secured area and public area. Speed gate turnstile provides bi-directional access in conjunction with a facility access control system. When enter, pedestrians need to present a valid credential which opens the turnstile's motorized barriers in the requested directions, allowing a single passage at one time. If an unauthorized pedestrian attempts to tailgate on a valid entry, or attempts to enter without authorization, the integrated sensors recognize the illegal passage attempt and sound an alarm, and deny the access. In case of power failure or an emergency, speed gate security turnstile will relase their swings for free access.
Speed turnstile gate types
Accroding to the different drive motor, speed gate turnstiles are devided into
Brushless motor speed turnstile gate: uses DC24V brushless motor, featuring no mechanical friction, low running noise, long life span, higher rotation speed, higher power conversion efficiency.
Servo motor speed turnstile gate: uses servo motor, more faster and reliable, longer life span than brushless type speed turnstile.
The cost & price of servo motor speed turnstile gate is higher than brushless motor speed turnstile gate.
What are the difference between speed turnstile gates and swing turnstile gates?
Chassis design: Speed turnstile gate come with slim and modern-look with chassis width ranging 100-180mm and the length is about 1400mm, and the swing arm are made from the pendulum plexiglass or tempered glass.While swing turnstile gates are designed with wider chasiss, and the width of the chassis is generally about 280mm and the length is 420~1400mm, and the swing arms are made from pendulum plexiglass glass or #304 stainless sheet.
Traffic speed: The opening time of speed turnstile gates is 0.3 seconds / per time, 30~45 person / minute can pass, and the speed can be adjustable, providing faster access than swing gate turnstile. Speed turnstile gates come with memory funciton, by which the users can swip cards continously and access contiously. While the opening time of swing turnstile gates is slower and traffic speed is around 20~25 person / minute, and they comes without memory function, so only one user to be allowed to pass each time
Drive way: The speed turnstile gate movement adopts directly driven way, combining a clutch with an encoder . Because of the high motor transmission efficiency , namely the large transsision coefficient, and the effective power of the motor can be transmitted to the swing arm to the maximum extent. When a suddent external force acts on the swing arm, and the swing arm deviates from the zero position, the solenoid valve immediately locks the gate to eliminate the external force, and the encoder acts to direct the swing arm to return to the zero position. In event of an unauthorized access, the clutch will immediately lock the gate.While, the swing turnstile gate movement adopts sliding friction, the priciple of four-wheels-four-grooves, with lower transimission efficiency . The wheel and groove are positioned at 90°. Each time the swing arm swings, the groove wheel will side and rub once. The positioning is also positioned by a fixed mechanism. In case of external force, if the anti-collion device is not installed, it will directly hit the movement or the swing arm, by which the swing arm will deviate from the middle zero position, and the 2 sides will not be aligned or synchoronized. In the worse case, the movement will not work properly and the swing arm will bend. Illegal intrusion can only give an alarm and can not be locked.
Limiting way: swing turnstile gates use proximity swithches or optocoupler signals, with large contact area and inaccurate limits. Speed turnstile gates use encoders to limit the position, which can be accurate to 1°
What are the advantages of speed turnstile gates?
1. Designed with a stainless-steel housing and transparent glass slide walls that create an aesthetically pleasing access checkpoint
2. Provide a strong visual obstacle against intrusion
3. Supplied with tailgating attempt detection to avoid illegal intrusion
4. Slim, elegant design and minimal footprint for blending into surrounding aesthetics
5. Supplied with wrong way detection prevents the gate opening when a user approaches from the secure side and intrusion detection prevent doors opening on to users in the safety zone
6. Provides an effective crowd control mamagement with rapid throughput and comfortable passage in an intense flow of people, avoiding queues at the entrance and exit
7. Supplied with multiple physical barrier height and lane widths to provide easy access to the disabled, wheelchairs, and people with large objects or deliveries, meeting both accessibility and security requirements.