Aesthetic Waist High Turnstile Gate JDGD-27
Add: Room 501, No.6, West 4th Alley, XingWei Village, FuYong Town, BaoAn District, Shenzhen, China
E-mail: luke@jaydagate.com
Wechat: Lukerong2013
Whatsapp: +86-13548106515
Mobile: +86-13548106515
Skype: jaydagates@outlook.com
Aesthetic pleasing waist-high turnstile with a 2-year warranty from Chinese security turnstile manufacturer & supplier
Waist high turnstile JDGD-27 is a cost-effective, reliable, and efficient pedestrian access control system with high dependability, good performance, and resilience to any conditions, coming with a space-saving, compact, and modern design. Self-centering, anti-action mechanism, and spring dampers are used for the rotation to function entirely and smoothly. The spinning tripod system prevents tailgating by allowing only one person to pass at a time.
The waist height turnstile effectively regulates large throughput and is well-built for increased durability, and allows for single or bi-directional access management. Users get a very comfortable passage experience because of the motorized arm rotation. When power or fire system input is lost, the horizontal arm automatically lowers to offer a clear exit passageway. By adjusting one or both directions into free passage mode, the exit turnstile can also be utilized for purposes like crowd management or user counts. An output is supplied to an incremental counter that is installed in the turnstile cabinet every time a rotation occurs for applications involving user counts.
For high-traffic locations, waist-height tripod turnstile JDDZ-27 offers deterrent automated access control. It is widely used in factories, dormitories, residential areas, and construction sites as it is designed for indoor and outdoor applications. It is also integrated with a face-card access control terminal to prevent illegal access. This lowers the need for manual person identity verification and boosts efficiency. Access control waist-high turnstile is available in two configurations: full automatic type and semi-automatic type. Both have mechanical anti-tailgating designs that can recognize a single person passing at one time and have a high anti-tailgating capability.
As a leading access control turnstile supplier with over 15 years of expertise, we supply a wide variety of tripod waist-high turnstiles with fashionable designs and favorable costs, as well as customization services. For additional information, please contact us at luke@jaydagate.com
Waist High Turnstile Features
1. Low power consumption
2. Robust and long-lasting
3. Bi-directional access control
4. Easy to maintain and monitor
5. Indicator lights (green/red) for easy use and flow
6. Drop-arm mechanism permits passage during power outages or alarms
7. Integration is possible with virtually any access solution
8. Creates a visual and psychological balance between being welcome and secure
9. Arm is always in the lock position, once receive signal it will unlock and lock back after one round rotation or time out
10. Locking side and top cabinet for easy servicing and placement of activation readers
Waist High Turnstile Applications
Dormitories
Factories
Residences area
Ports and harbors
Fitness club
Exhibition & convention centers
Theme parks
Waist High Turnstile Parameters
| | |
| --- | --- |
|  Housing Material |  #304 stainless sheet |
|  Dimension |  1400 x 280 x 980mm |
|  Power Supply |  AC220V / AC110V, 50/ 60 Hz |
|  Channel Width |  550mm |
|  Arm Turning Angle |  120° |
|  Pass Speed |  35~40 persons per minute |
|  Input signal optional |  Dry contact signal or +12V level signal or DC12V pulse signal |
|  Rotating Direction |  Bi-directional |
|  Communication interface |  RS485 |
|  Arm drop when power failure |  Yes |
|  Open Time |  0.2 second |
|  Life Cycle |  5 million times |
|  Working Temperature |  -30°C~+70°C |
|  Working Environments |  Indoor, outdoor |
|  G.W |  65 kgs |
|  Package |  export standard carton |
The Design
The System Diagram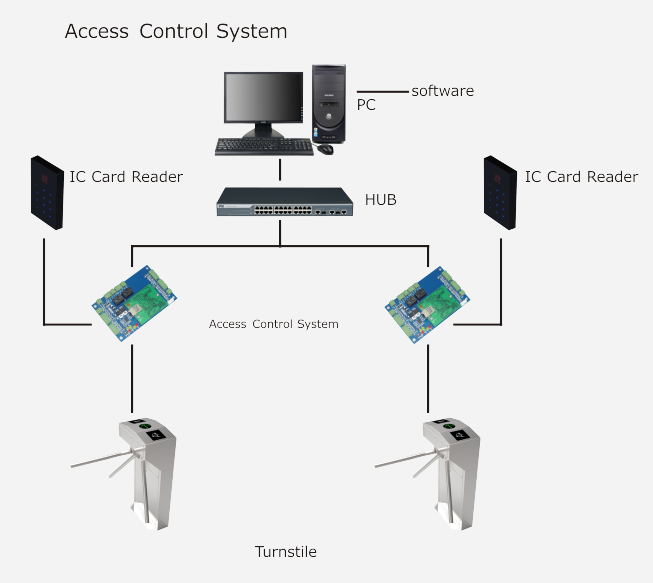 Project Cases

What is a waist-high turnstile used for?
Waist-high turnstile is a straightforward, affordable, and small waist-high access control turnstile with three rotating arms. It includes a chassis, a mechanism, and three blocking rods, and it offers automated access control that is dissuasive for heavily used areas. It uses precise movement position control to ensure that it operates more accurately and steadily. It is made of stainless steel in a contemporary form, offering a safe, stylish, and fashionable option for both indoor and outdoor applications. An ideal crowd control solution for any location that needs effective crowd management, waist height tripod turnstiles, on the other hand, simplify integration to access control and visitor management systems. They slow down pedestrian traffic flow to enable closer monitoring of entry by security guards.
How does a waist-high turnstile work?
The main shaft, front and rear bearing seats, buffer mechanism, electromagnetic coil seat, rotation mechanism, three-claw wheel, ratchet wheel, and reset mechanism make up the mechanical transmission system of waist-high turnstiles. The electronic verification system verifies, records, and then sends a signal to the control circuit to make the solenoid energized and rotate 90 degrees, allowing pedestrians to enter by scanning their legitimate bar codes or cards. The pedestrians then go across the intersection by manually depressing the brake lever as the green signal light turns on, and the reset mechanism returns the brake lever to its original position. The power is shut off and reversed when the solenoid has finished the power-on control period. Meanwhile, the ratchet wheel and the rotary brake support wheel are in a locked state, and the passage is locked waiting for the next entry.