Stylish Design Swing Barrier Gate Lobby Turnstile Swing Barrier
Add: Room 501, No.6, West 4th Alley, XingWei Village, FuYong Town, BaoAn District, Shenzhen, China
E-mail: luke@jaydagate.com
Wechat: Lukerong2013
Whatsapp: +86-13548106515
Mobile: +86-13548106515
Skype: jaydagates@outlook.com
Stylish design swing barrier gate lobby turnstile swing barrier, swing barrier optical turnstile is designed with upscale look suitable for any premium lobby
Designed with infrared, anti-tailgating sensor to ensure discreet control of the flow of people into secure areas, swing barier gate JDBZ-28 is the pedestrian access control solution for all applications requiring secured entry that allows for a heavy and efficient flow of authorized traffic and visitor management with a smooth and contactless entry. It comes with compact housing design to fit well in some valuable area with limited space. In addition, the physical barriers of swing barrier gate turnstile JDBZ-28 move quickly and accurately, stably and quietly, with low-power consumption.
Swing barrier gate turnstile JDBZ-28 is provided with standard electric interfaces for integration into third party access control systems, and widely used for sites requiring intelligent management for the passage of people – such as in a hotel, airport, school, factory, facility, etc.
Swing Barrier Gate Features
1. Modern and stylish look
2. Anti-intrusion function, when the gate signal is not received, the arm will locked automatically.
3. Two different passage widths available (600 mm and 900 mm for people with reduced mobility)
4. Equipped with sensors that allows to detect tailgating
5. Supports anti-passback, preventing card holders from passing their card back for a second person to gain entry
6. Interactive Red/Green direction indicator lights guide pedestrians through
7. Open automatically to evacuate people in the event of an emergency, such as fire, power failure, etc
8. Lower-section optical sensors prevent unauthorized crawling through lanes
9. Anti-reverse function, the turnstile alarms if someone wants to enter in the reverse direction
10. Direction control that allows bidirectional access
Swing Barrier Gate Applications
Administrative sites
Universities
Wheelchair/Disabled Access
Amusement parks
Airports
Commercial Buildings
Swing Barrier Gate Parameters
| | |
| --- | --- |
|  Housing Material |  1.5mm~2.0mm #304 stainless sheet |
|  Dimension |  1400 x 200 x 980mm |
|  Power Supply |  AC220V / AC110V, 50/ 60 Hz |
|  Channel Width |  600~900mm |
|  Drive Motor |  DC 24V brushless motor |
|  Pass Speed |  30 ~35 persons per minute |
|  Input Interface |  Dry contact signal or +12V level signal or DC12V pulse signal |
|  Rotating Direction |  Bi-directional |
|  Communication interface |  RS485 |
|  Gate open when power failure |  Yes |
|  Open Time |  0.2 second |
|  Life Cycle |  3 million times |
|  Working Temperature |  -30°C~+70°C |
|  Working Environments |  Indoor, outdoor  (with shelter) |
Swing Barrier Gate Design
Swing Barrier Gate System Diagram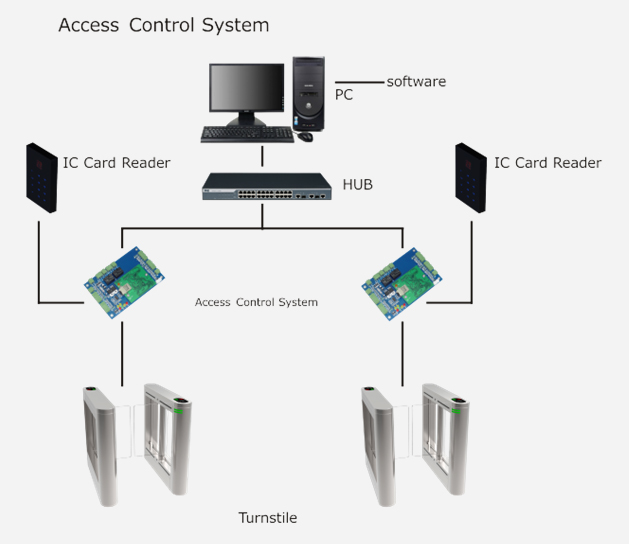 Project Cases for Swing Barrier Gate

FAQ
Swing barrier gate, also called swing barrier turnstile or swing optical turnstile, is a classic type of waist optical touchless turnstile combining the security of a physical barrier turnstile with the sophistication of optical beam detection to prevent tailgating and unauthorized entry with ease. Swing turnstile barrier gate is designed with sleek styling and modern appearance, and such modern optical turnstile blends right in and complements its surroundings seamlessly with its included illumination packages and sleek, modern styling. Swing barrier gate turnstile usually comes with slim size and very compact footprint by which solves the issue of introducing security and safety into small and valuable areas of real estate spaces. On the other hand, swing barrier turnstiles are equipped with standard interfaces to be integrated various access control systems to achieve multiple recognition ways.